In October, 2008 Susan Stephenson returned to Bhutan. This trip was sponsored by the children, parents, teachers, and administrator of a Montessori school in the USA, and many friends and relatives, without whose help to cover the cost of travel, Susan would not have been able to return. She traveled from Thailand with Gunilla Kolmodin who was a fellow course staff member on the first AMI 3-6 Montessori teacher training course in that country. Together they gathered information on the culture of Bhutan in preparation for a training course there in the future, and shared their own experience in Montessori.
Click on these dates, links, to see emails that Susan sent home, and pictures taken, during the Bhutan trip:
October 5 — California to Bangkok, via Hong Kong
October 9 — Bhutan arrival, practical life, television, toys
October 12 — Mt. Everest, bathing, Tsechu, the Dzongkha language
October 16 — Observing Resa, age 2.5; school, hospital, snakes
October 20 — Thimphu school, Punakha dzong, proper dress
October 22 — Montessori talk, parents praying, the rice harvest
October 24 — Jhomalhari, Jhodake, Cheli la Pass, farmhouse, hot rock bath
October 25 — Bangladesh, incense, Four Friends, the Coronation of the King of Bhutan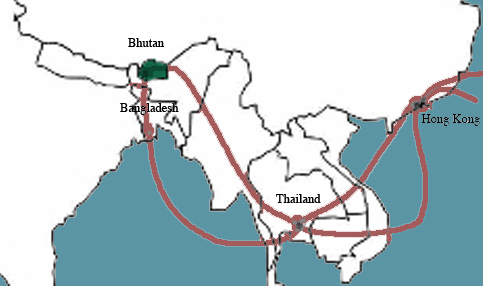 Strings of yak cheese, apples, walnuts, and fresh milk for sale on the road.
Paro Valley rice fields, almost ready to harvest.
Every family has a shrine room or prayer corner where the day begins with filling water bowls, lighting incense, and praying for the happiness of all.
Susan with the sacred mountain Jhomolhari in the background.
Montessori students at The Cobb School Montessori in Simsbury, Connecticut, who contributed to this project. Other supporters include Childpeace school in Portland,Oregon, friends, and family.
The courtyard of a traditional farmhouse, 2-year-old working along side the rest of the family.
Susan Stephenson and Gunilla Kolmodin in Bhutan. They were part of the AMI Montessori teacher training course where Dendy, the Bhutanese teacher, earned her Montessori diploma.
Teacher braiding girls hair during morning break at school.