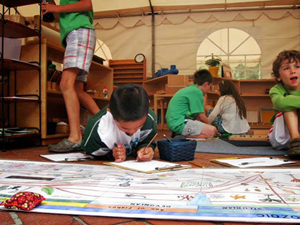 CONGRESS TALKS
Recordings of some of the talks given at the International "Montessori: Guided by Nature" 2013 Congress in Portland, Oregon, can be purchased here: recordings
PowerPoints and printouts of some of the talks can be found by clicking here: info

INTERNATIONAL
CONGRESS HISTORY VIDEO
For almost 100 years these gatherings have provided an opportunity for Montessorians to come together from around the world to share and further their work in aid of the child.
Congresses are open to all. Past congresses:
1929 Helsingor, Denmark; 1931 Nice, France; 1933 Amsterdam, Netherlands; 1934 Rome, Italy; 1936 Oxford, England; 1937 Copenhagen, Denmark; 1938 Edinburgh, Scotland; 1949 San Remo, Italy; 1951 London, England; 1953 Paris, France; 1957 Rome, Italy; 1960 Bad Godesberg, GErmany; 1964 Amsterdam, Netherlands; 1970 Rome, Italy; 1970 Toronto, Canada; 1970 Unesco Paris; 1970 Washington DC; 1972 Palo Alto, California; 1977 Munchen, Germany; 1979 Amsterdam, Netherlands; 1985 Karachi, Pakistan; 1991 Nara, Japan; 1997 Uppsala, Sweden; 1999 Cancun, Mexico; 2001 Paris, France; 2005 Sidney, Australia; 2009 Chennai, India; 1013 Portland, Oregon, USA. The next congress will be held in 2017 in Prague, Czech Republic. Keep in touch with the planning at the AMI website:
2017 CONGRESS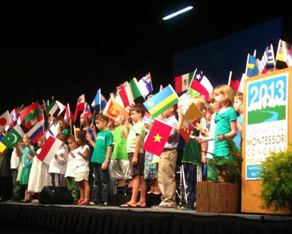 CONGRESS PHOTOS
People, exhibits, school visits, "Montessori in the Square" (infant community, primary and elementary classrooms in the middle of downtown Portland!), presenters, musicians, and dancers. Click here: photos
Child of the World: Montessori,
Global Education from Age 3-12+
Child of the World explains what children do in a Montessori school from the age of 2.5 or 3 through high school, in ways that are not only simple and clear, but that give parents and teachers who in more traditional setting ideas to use in helping children learn joyfully, remember what they learn, and develop in many more ways than just academically.

For more information click here: Child of the World
The author of these books has traveled in more than 60 countries, has taught children in several of them, and has worked as a school administrator. As a result her books are especially helpful to dedicated school faculty who never have enough time to help parents use this wisdom at home. Some of the video clips from Susan's talk, which of course could not be included in the print version of her presentation, can be found by here: VIDEOS
A video of her 2013 Montessori Model United Nations keynote address in New York, to 1200 middle school students from 12 countries, can be seen here: MMUN
The Joyful Child: Montessori,
Global Wisdom from Birth to Three
The Joyful Child is used for birth preparation classes, chapter-by-chapter parenting discussion classes, Montessori teacher training courses, online parenting classes, human development classes in middle schools, for families whose children will be entering a Montessori school, and for anyone interested in learning about human development and learning in the first three years of life.

For more information click here: The Joyful Child
ORDERING BOOKS
All three books are now available from Michael Olaf with bulk discounts.
Look for the linnk on this page: BOOKS
Also available around the world from Amazon in print and kindle.
Because there are so many pictures in the books
the layout in kindle is not as nice as the print version so we don't recommend it
if one can get the print version.
Amazon links, with more information and a view of inside pages:
The Universal Child
Child of the World
The Joyful Child
If you find any of the books especially valuable to you,
please give it a 5-star review on Amazon. Thank you.
This page can be shared, or linked to any school, parenting, or other educational website without permission.
RETURN TO: Michael Olaf HOME