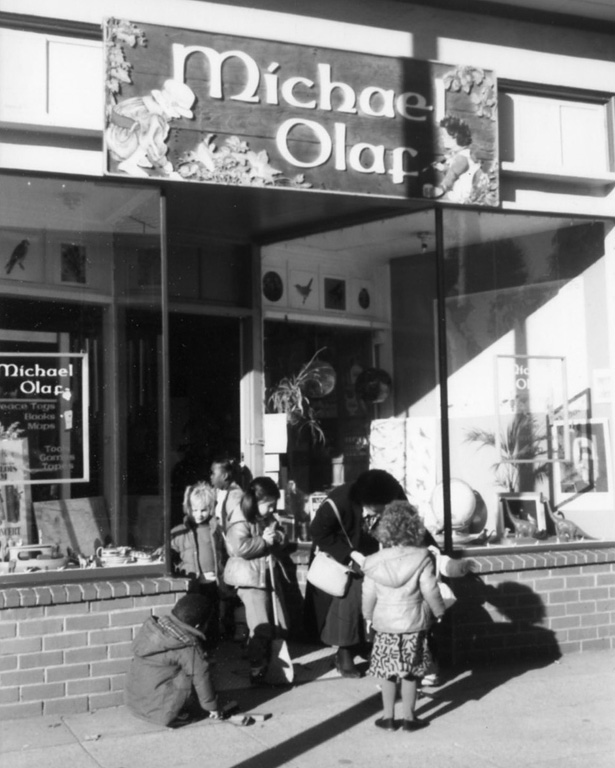 MICHAEL OLAF MONTESSORI SHOP
IN THE 1980'S
No business plan, no plans at all to start a business. Susan Mayclin Stephenson was on maternity leave from being a Montessori elementary teacher in Marin County, California. Jim was a painter for the Berkeley schools. 1982 their teenage daughters, with the typical confidence and initiative of Montessori school graduates, started a tiny shop to provide Montessori toys and books for children because they could not find anything good enough in the whole San Francisco Bay Area for their new baby brother. They named it after him, Michael Olaf.
Teachers discovered the tiny shop and asked for a list so they could order from home. Then the growing number of new customers asked for pictures which Susan drew with a pencil, laying out the catalogue pages, text blocks and drawings, on graph paper taped to the dining room window. The business grew and grew, moving to two more stores, each larger than the last, in the Rockridge area of the East Bay, between Oakland and Berkeley.
Even though the Michael Olaf Montessori Company provided toys and other children's items for homes and schools the interest was in sharing Montessori philosophy. Susan wanted to share her Montessori experience, gained from being a parents and working with infants through high school students. So she incorporated her Montessori ideas for parents and teachers on the pages of these catalogues. Some of these early catalogues are still saved. In fact she was shown a collection of them when visiting a school in Cali, Colombia in 2015!
It has been our pleasure to provide the kinds if children's things that would be found in an AMI Montessori class, or in a home following Montessori principles. Now that we are discontinuing most of this part of our business we hope you enjoy the few things we will still have produced, and our books!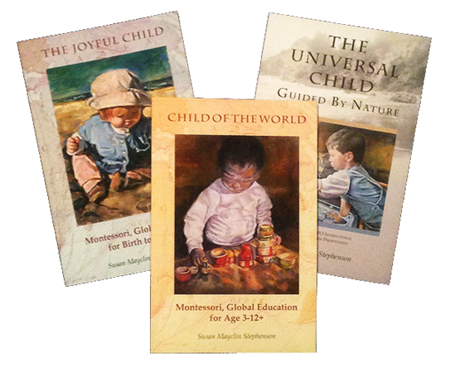 BOOKS
The Michael Olaf Montessori Company is now reformed as The Michael Olaf Montessori Publishing Company. Above are three of the 4 books published as of the end of 2016, and more are on the way. Susan's books are being translated into many languages and are considered the best first introduction to Montessori.
WHOLESALE/BULK DISCOUNTS
Bulk orders of these Montessori books are available in the USA
INTERNATIONAL ORDERS
Individual copies can be found on Amazon in several countries. Translated books are available at AMI (Association Montessori Internationale) organizations in Vietnam and Russia, and more will be available. Above is the link to these books at Amazon.com in the USA. Please check Amazon in your own country for printed and E-books.

TOYS AND MATERIALS:
In January, 2018, Michael Olaf will no longer carry most of their toys and materials. Instead we will focus on our books and the few materials that we have made locally. We do hope that others will carry on our work and find ways to provide the very best in materials for homes and schools.
"TEMPORARILY OUT OF STOCK" means that these items, at the "TOYS AND MATERIALS" link above will be available after January 2018.
"SOLD OUT" means that these items are gone for good, we are trying to update this several times a week as items sell out.
MICHAEL OLAF MONTESSORI COMPANY
65 Ericson Court, #1, Arcata, California 95521
michaelolaf.com
michaelolaf.net
michaelolafbooks@gmail.com

Susan's oil paintings,
inspired by her international Montessori work,
and her new books, will be announced
on her personal website: SUSAN